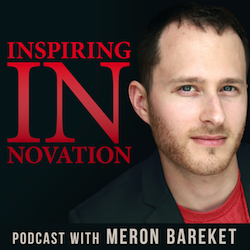 "Just Do It. What's The Worst Thing That Could Happen?"
These were the first words that Ralph Quintero & I shared. The time was May, or maybe June, 2012 – only a year ago. Ralph had just launched his iPad magazine – The Great Business Project. I was procrastinating with launching my magazine – Inspiring Innovation.
I was stuck at getting interviewees for my first issue. I couldn't bring myself to approach anyone. Funny thing was that for quite a while I knew exactly who I want on my first issue – Pat Flynn, Farnoosh Brock and Cahill Puill, co-founder of world-famous 4HWW muse – LapDawg… But I was scared. I was afraid they'd say no, so I didn't ask.
One day, I was on a Google+ Hangout (back then it was very exciting!) of MagCast publishers – the platform both Ralph & I were using. Ralph was sharing how incredibly easy it was for him to launch and get interviewees on board.
I was very pissed… at myself.
So I sent Ralph a tweet, something like, "I'm kicking myself so hard after seeing you on the Hangout for not taking action". The response?
Just Do It. What's The Worst Thing That Could Happen? —@RalphQuintero
That day was were my friendship with Ralph was formed, and the day that 'Inspiring Innovation' became a real thing.
How To Be An Entrepreneur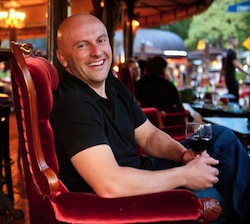 Ralph became an entrepreneur at a young age, and with a unique profession – DJ! At the age of 13 years old, he borrowed stereo equipment (double cassette tape) from his dad and aunt, and started deejaying school parties. Then his big break came: Ralph and each of his other two partners made $20 on a single night!
Ralph could not have been happier, and to this day he has a smile on his face when he tells the story. That evening was the first time he realized he could make money doing something he loved.
He became a professional DJ. He toured and performed in the hottest nightclubs around the world and got to work with his idols. Life was great… besides the rough hours and lack of any normalcy.
Finally, he was about to get married. He knew he can't carry on this way when starting a family. So he ended up getting a job at JBL, and moved to the corporate world. Since JBL is a world-known speaker company, he reckons he was, "still doing something I love, but in more reasonable hours".
Ralph's attitude and tendency to excel didn't fade in the corporate world. Quite the contrary; he was climbing the ranks and became head of international sales. Which meant he was traveling 80% of the time.
One night, Ralph came home to his wife, who was alone with their one-year-old son and pregnant. She told him she can't take it anymore. They decided to leave California and their six figure jobs and go back home – to Miami. This was the beginning of their Life After Corporate.
Life After Corporate
That night in 2003, the Quinteros made a promise to themselves — to only work in things they are passionate about. They had no idea what that may be, but they were going to find out. Ralph decided to leverage his experience from corporate, and combine it with everything he learned from being a young successful entrepreneur. They created a company targeted at helping audio companies establish themselves in Latin America. When they divested from the company 6 years later, it was generating over $35M in revenue for their clients.
This process was documented on Ralph's best-selling title, Life After Corporate: My Personal Journey from the C-Suite to the E-Suite. That book was an overnight best seller – as you will hear on today's episode. Today Ralph owns several businesses, one of them is The Great Business Project (magazine, podcast, forum and blog), which aims to be the resource for entrepreneurs that Ralph wish he had when he got started. It's his way of giving back to entrepreneurs. He's also an in-demand speaker, coach and advisor.
Successful Entrepreneurs
So what are we talking about today, besides Ralph's story?
Today, Ralph shares with us the #1 pillar any entrepreneur need to take care of; his own mindset. Ralph will walk us through creating and maintaining the mindset and attitude that all successful entrepreneurs share. We will also cover some of his 5 pillars to having a successful business that works for you — so tune in now so you don't miss out! Prepare to start having a business that works for you, and not the other way round!
Enjoy the episode.
In this episode you will learn:
How having an action-taking mindset and attitude like Ralph's will change your life.
How Ralph discovered how to make money doing only things he loves.
Why Ralph gave up on his entrepreneurial career and moved to corporate?
Why you need to take action in your life?
Why you should ban the word 'tired' from your vocabulary?
How to cope with getting a 'no' from your dream client?
What's the one, and ONLY thing that limits you when someone says 'no' to you?
How to perform at your best?
How Ego affects a person's success? How can you deal with it?
One thing that 84% of the US population wants to do before they die!
How Ralph's book became a bestselling book, without him having any previous writing experience.
Items mentioned in this episode include:
Don't Miss an Episode! Subscribe Below:
Using something else? Copy this address:
––– http://www.meronbareket.com/feed/podcast/ –––
I Need Your Help!
Thank you all for checking out this episode of the Inspiring Innovation podcast!
If you haven't already, I would love if you could be awesome and take a minute to leave a quick rating and review of the podcast on iTunes by clicking on the link below! It's the most amazing way to help the show grow and reach more people!
Leave a review for Meron's podcast!
Thank you again for your ongoing support.
Stay awesome,
Meron
Disclosure: Please note that some of the links above are affiliate links. There is no additional cost to you, and I will earn a commission if you decide to make a purchase.
Transcript
[spoiler title="Episode 012″]Still in progress, please come back later![/spoiler]