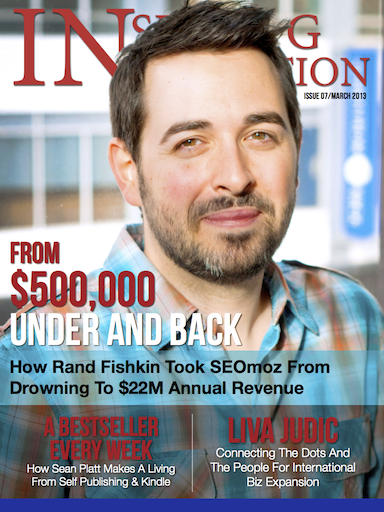 The latest Inspiring Innovation issue has just hit the newsstand!
Here's what's waiting for you this month:
This month on the Inspiring Innovation Magazine:
You get exclusive access to the behind-the-scenes of World's Top SEO company – SEOmoz AND to the Amazon bestselling self-publisher Sean Michael Platt!
In this issue you will find:
What principles helped Rand Fishkin turn SEOmoz around from $500,000 debt to over $22.3M annual revenue [exclusive 1-on-1 video interview]
How did Sean Platt unlock the code of PROFITABLE self-publishing, why is he publishing a new book every single week (is he nuts? Listen to the interview and find out!), and how can YOU become the Next Amazon Bestseller!
Liva Judic, founder of Merrybubbles and former coach of Head of State and a life-saver of successful CEO's worldwide, helps connecting the dots on the transition to entrepreneurship.
You will also get:
Blueprint: How to use Facebook ads effectively to generate income right now.

Featured articles by Joel Runyon, Yaro Starak, Farnoosh Brock, Benny Hsu and more!

The best podcasts and people to follow, to skyrocket your entrepreneurship venture to new heights!
How to get the app?
Don't have the app yet on your iPad? It's easy and free: Open your iPad and go to http://INmag.co/mag. Once downloaded, you can subscribe and activate a 2-months free trial that will give you access to ALL of our issues.