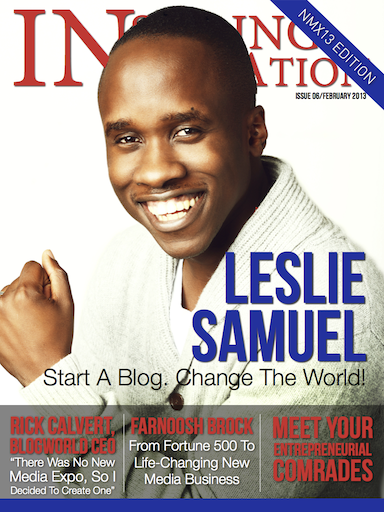 The latest Inspiring Innovation issue has just hit the newsstand!
Here's what's waiting for you this month:
The Blogworld 2013 New Media Expo Edition!
This issues includes:
EXCLUSIVE INTERVIEWS:
Leslie Samuel of 'Become A Blogger' – how to start a blog that changes the world (and your income levels!)
Blogworld co-founder and CEO Rick Calvert shares how he created the most successful bloggers expo out of thin air

Prolific Living's Farnoosh 

Brock – on leaving a safe job at a Fortune 500 company to follow your passion (and make it work)
ALL the BEST TIPS & TRICKS from this year's event
The complete VIDEO recording of Pat Flynn's session at the New Media Expo – highly regarded as the best session this year

A networking opportunity – direct access to the people who attended this event. Surround yourself with highly successful, inspiring and action taking people – TODAY!
How to get the app?
Don't have the app yet on your iPad? It's easy and free: Open your iPad and go to http://INmag.co/mag. Once downloaded, you can subscribe and activate a 2-months free trial that will give you access to ALL of our issues.
Ready to become an awesome entrepreneur? Check out the magazine now at http://INmag.co/mag!