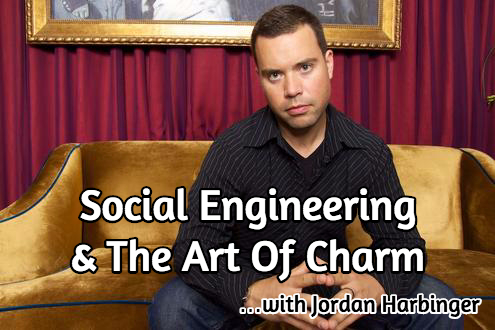 In this episode Jordan Harbinger shares how the art of charm can help you break free from the rat race, gain the ultimate leverage at work, and become more successful
Harbinger is the voice behind one of the top podcasts in iTunes overall – the excellent "Art of Charm" podcast. He's an expert in social dynamics, body language, and relationships.
Over the last few years, Jordan and his business partner AJ have built a 7-figure business – where they help ordinary guys become extraordinary men.
Check this episode out and you will learn:
What unexpected role charm plays in your everyday life and career
Why social engineering is the x-factor to your success and financial security
How to find your perfect pricing point (and deal with haters)
The one thing you can start doing this very instant to become a first-impression master (don't miss out on this one!)
Mentioned Resources
I Need Your Help!
If you haven't already, I would love if you could be awesome and take a minute to leave a quick rating and review of the podcast on iTunes by clicking on the link below. It's the most amazing way to help the show grow and reach more people!
Leave a review for Meron's podcast!
Affiliate Disclosure: Please note that some of the links above are affiliate links. There is no additional cost to you, and I will earn a commission if you decide to make a purchase.