Note: Click here to download your free copy of The Human Conversions Guide
Episode Highlights: Conversion Optimization, List Building, and Audience Engagement
The difference between making money and being successful
Why focusing on your conversion rate is often the wrong decision
Good conversions vs. bad conversions
How building a small list that is worth more than gold is much more valuable than building a huge list that doesn't care about you
Design 101: Design DO's and DON'Ts that apply to any website and will help you make sure your readers will be more engaged and take more favorable actions rather than stare at their screen confused!
How your homepage would look like
The 3 most important pages that you need to patch up on your website — today!
Today's Guest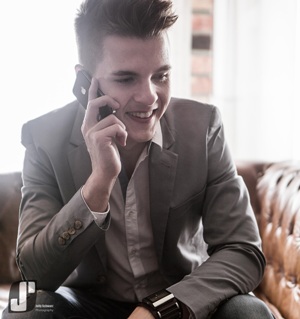 Jakob Schweighofer is an Austrian entrepreneur. In just a couple of years, he went from installing WordPress themes to becoming a sought-after expert in optimization of websites and conversions. He's been involved in several projects that made incredible amounts of money in a very short period of time.
As it often happens in business, early stage partnerships don't hold forever. Not long ago Jakob's partnerships disassembled and now he's turning the page and starting afresh.
"I heavily changed my definition [of success] in the last few months, from I-get-a-lot-of-money-out-of-it [to] success is doing the things I like with people I enjoy doing it and be able to live from it."
I met Jakob at Tropical Think Tank 2014 in the Philippines and was blown away by his knowledge. Since then, I've been talking to him at least twice a month about my business and branding and I'm excited to starting to apply all of his ideas.
When it came to conversions, following his ideas has often tripled conversion rates for both Julie and me in our businesses. But more than that, I look forward to follow his advice on creating a strong online personal brand — something he was incredibly successful in creating for himself in the German and Austrian market.
Today's talk about website optimization is unique, because unlike other experts – Jakob isn't as excited as about finding that one little tweak, changing the color of a button in just one shade, moving a button by 10 pixels, or making a title a lot more shocking.
Jakob has grown tired of such internet marketing manipulations, and now he focuses on converting the right people the right way in order to build true and lasting brands and businesses for ourselves.
Is It Truly A Good Idea To Improve Your Website Conversions?
This might seem like a funny question. I mean — how could improving your website conversion be a bad idea?
All things being equal, of course you want the highest conversion rate possible.
But things are not equal, and here are some questions to consider:
How are you going to improve your conversion rate?
What kind of audience will you be attracting due to that change?
How engaged is that audience going to be, compared to your existing one?
All these questions affect the effectiveness of the work you're about to put in improving your conversions.
Conversion Optimization VS Your Core Values
If improving your conversions means installing pop-ups that your audience will not like, e-mail gates that they will not appreciate, or changing the way you write in a way that doesn't represent you and your core values — Jakob's verdict is: It's not worth it.
Think about it: If you could have a list of a hundred people that are absolutely rabid about what you do and buy every product you put out there, compared to a list of 10,000 people that opted-in for all sorts of lead magnets that don't really represent what you are about and don't give a rat's ass about your e-mails and offerings after they got their opt-in magnet. Which one would you take?
Suddenly, the obviousness (let's pretend that's a word) of the equation "more conversions = GOOD" is put to doubt.
So what should you be doing to get more bang for your buck? How can you get more engagement and build your e-mail list without filling it with the wrong people? Read below to find out.
Website Design: Do's & Don'ts
In today's episode, Jakob covered his Human Conversions Guide Manifesto – how websites should be built in this day and age to create effective and engaging personal brands.
The information below is a quick summary of everything we discussed, but for more information, make sure you listen to the interview as well as download Jakob's free PDF: The Human Conversions Guide.
Do: Stop Worrying About Conversions
If you read through this post up to this point, you must have seen this first commandment coming.
In order to create a personal brand that's human, relatable and engage-able you need to put aside the internet-marketing-conversion-optimizing mindset, and think of your website as your meeting place with other human beings that might be interested in you and your services.
The less internet marketing tricks that you play on your audience, hell — the better!
Don't: Write To An Audience
Following up on the previous commandment, this one distills the way of communication even further: Don't write to an audience; write to a single person.
The way I achieve that, by the way, is by not writing at all:
I only outline the text I want to write, and then I go on a walk and record it, pretending I'm speaking to one of my readers. Then, my VA transcribes it and turns it into text format, but in case you don't have your own VA — you can have someone from Elance do that for you for pennies. Or you can even transcribe it yourself!
The point here is not the process as much as the hack that I found to work for me to get out of the "I need to write a post for my site" state of mind and into a "Hey man, here's some cool stuff I learned from my latest episode".
See the difference? Your audience (sorry, people) will see it too.
Do: Avoid Complexity
The next thing Jakob tackles is complexity. As you might recall from my interview with Kary Oberbrunner "clarity attracts, complexity detracts".
Here are just a few ways people are getting clarity wrong:
Every single page on your site needs to have one single job.
People (myself included) almost always get this one wrong.
Whenever you write a blog post, ask yourself: what's the one thing I want this page to do? Build my list? Educate? Entertain? Inspire? Encourage to join my list? Sell my product? Sell my event? It can only be one.

Your homepage is one of the first pages people see.
Traditionally, it was THE FIRST page that everybody saw, but with today's social media, many people reach a specific post in your site. Guess what they do then? They go and check out your homepage.
Here's the job your homepage was hired to do: Quickly, effectively and clearly communicate who are you, what's this website about, and what will I (the reader) find here (what's in it for me?).
Do that and you help every single visitor who gets to your site understand if you are a good match, and what's the next action they should take.

Stop giving people so many options.
I get it, you want people to opt-in to your list. Who wouldn't?
So like many others, you think to yourself, "let's put 5 lead magnets on the sidebar and then at least one of them would apply to every visitor."
While that might sound like a good idea, research shows that having too many options actually leads to anxiety, paralysis, confusion, and worst of all, to postponing the moment of decision. Unfortunately for you, that is postponing the moment of deciding to join your e-mail list… until they leave your site and forget about you altogether.
Bottom line:
Keep it clear
Remove as many elements as possible
Don't bombard people with too many options
Make a clear path for visitors to walk through your site
(I really need to apply these for me site, too!)
Don't: Ask For Stuff You Wouldn't Do Yourself
Last but not least is the real deal breaker: Whenever you consider putting a new pop-up lead magnet ad, a new welcome gate, or replace your homepage with the only option to get past is for me to give you my e-mail address, ask yourself this:
"How would I feel about this? Would I be willing to take the action I'm being asked to take? How will taking that action make me feel? Do I trust this guy with my email at this stage?"
It's easy to develop a blind spot and rationalize to yourself stuff people are willing to do – when in fact it might make them uncomfortable.
I've done that mistake with my Sign-up process to my membership site back in March 2014.
The solution to this blind spot was incredibly easy: Send it to someone else and ask them: What do they think? Would they opt-in? Would they take the action that is requested on that page?
Final Words
As I said, in the interview Jakob went into much more detail than this summary. For the full story and more information listen to today's interview (there's a player at top of the page) and download Jakob's free PDF: The Human Conversions Guide.
I hope this has been useful for you. If you have any questions to Jakob or me, or if you think we got it wrong, leave your comments and thoughts below.
Mentioned Resources:
Click here to download your free copy of The Human Conversions Guide
I Need Your Help!
If you haven't already, I would love if you could be awesome and take a minute to leave a quick rating and review of the podcast on iTunes by clicking on the link below. It's the most amazing way to help the show grow and reach more people!
Leave a review for Meron's podcast!
Affiliate Disclosure: Please note that some of the links above are affiliate links. There is no additional cost to you, and I will earn a commission if you decide to make a purchase.