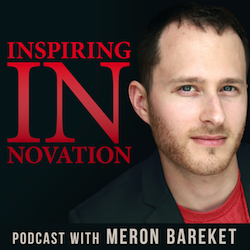 Today's highlights
The funniest thing that ever happened to Guy Kawasaki
What's Canva, and why does Guy think that it's to Design what the Macintosh was to Computing?
What's Guy's drive? Why did he go back to working for someone else for the first time in almost 10 years?
What are some of Guy's tips to entrepreneurs when it comes to spreading the word about their business?
What are the first two criteria that Guy checks when validating an idea?
How did a small startup like Canva opened up a conversation with someone like Guy, and what's the moral here for all of us entrepreneurs?
What about today's interview made me, and my co-host Jared Easley, sweat bullets?
Today, as you can judge by the episode's highlights, we have a great show. It's an amazing honor to have Guy Kawasaki, chief evangelist of Canva, come and share with us what's on his mind.
Besides finally explaining what a chief evangelist is, Guy shares with us what made him revive his mythological role at Apple, and go back to working for someone else, dedicating all of his time to his new goal and mission: Democratizing design.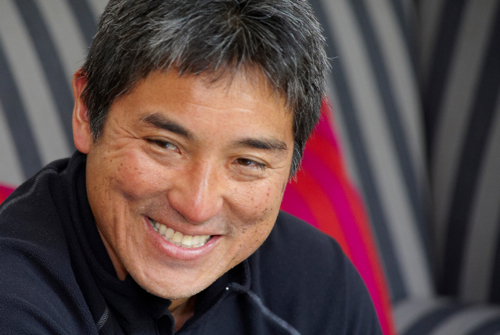 Democratizing Design
Guy believes that there's no reason for the tools required to designing breathtaking graphics to be out of the reach for most people. Today, you need to learn and master complicated and expensive pieces of software like Photoshop to create artwork that you can share on Social Media, your website, or anywhere else.
Guy's new mission is to help change the current status quo. He partnered up with the design tool, Canva, that won his heart and got him excited. Actually, he never felt this way since the first time he saw what the Macintosh could do.
Being an avid fan of Canva, I get it. The first time I used Canva, was only similar to the first time I held an iPad, MacBook, and iPhone (yes, I'm an Apple fan. We can debate about just how much it kicks Android's ass in the show notes if you want to). It was love at first site. This tool changed me from the most un-gifted graphic designer in the world, to someone who spends 15 minutes creating a little photo, that 10 hours later hits #1 in the Get Motivated Reddit, and brings in thousands of unique views.
Tips For Entrepreneurs
Besides Canva, Guy also shared with Jared and me some of his thoughts about idea validation, following a passion, and rejecting those who tell you, "you can't do that!".
Join Jared and me for quick talk with a true legend. And by the way, check out our previous episode for a crazy story about what happens when you tell the universe what you want (hint: you get to interview Guy Kawasaki!)
P.S. If you enjoyed the show, please tweet this! (click to automatically tweet it):
Thank you @MeronBareket @JaredEasley for introducing me to @Canva! Really enjoyed your interview with @GuyKawasaki http://iito.me/1fymPWD
Items mentioned on this episode
Canva – the most amazing graphic design tool you'll ever use!
Don't Miss an Episode! Subscribe Below:
Using something else? Copy this address:
––– http://www.meronbareket.com/feed/podcast/ –––
I Need Your Help!
If you haven't already, I would love if you could be awesome and take a minute to leave a quick rating and review of the podcast on iTunes by clicking on the link below! It's the most amazing way to help the show grow and reach more people!
Leave a review for Meron's podcast!
Thank you again for your ongoing support.
Stay awesome,
Meron