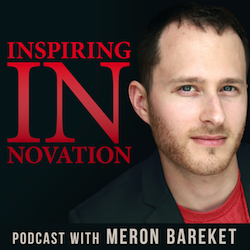 In this episode you will learn:
How to solve complicated problems with simple illustrations?
How to consume a lot more information, in a lot less time?
How to make problem solving and strategic planning easy and fun.
How to pull ideas from your head and translate them into something that is literally – crystal clear!
Items mentioned in this episode include:
Don't Miss an Episode! Subscribe Below:
Using something else? Copy this address:
––– http://www.meronbareket.com/feed/podcast/ –––
I Need Your Help!
Thank you all for checking out this episode of the Inspiring Innovation podcast! If you haven't already, I would love if you could be awesome and take a minute to leave a quick rating and review of the podcast on iTunes by clicking on the link below! It's the most amazing way to help the show grow and reach more people! Leave a review for Meron's podcast! Thank you again for your ongoing support. Stay awesome, Meron Disclosure: Please note that some of the links above are affiliate links. There is no additional cost to you, and I will earn a commission if you decide to make a purchase.
Transcript
[spoiler title="Episode 021″]Still in progress, please come back later![/spoiler]