Episode Highlights
How my guest made the transition from jumping from helicopters and running convoys into Baghdad to becoming an independent author and publisher.
The similarities between army life and successful entrepreneurship (mainly SOPs, systems and teamwork)
How my guest started making money by allowing people to download everything he has for free
How the Pay What You Want model was born, and how it allows my guest to make 3x more money than he would had he used traditional payment models
How to use Gumroad to sell anything online within a few seconds and with no technical knowledge
How to make money from attending conferences
DO's and DONT's When Using the Pay What You Want model
Today's Guest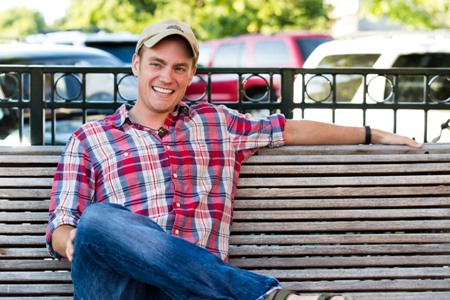 When Tom Morkes was 22 years old, he was in-charge of 40 guys and a dozen MRAP, when he was running convoys in and out of Baghdad. His role in the US Army required him to come up with new SOPs and TTPs (Tactics, Techniques and Procedures) for convoys, since the type of technology and environment they served in were new to the army. He had to figure out everything on his own without being able to rely on previous knowledge in the communication.
In many ways, he agrees, there are many similarities between his role in the army and becoming an entrepreneur.
When you become an entrepreneur, you find yourself with no manual. There is no step-by-step guidance and you need to figure it out for yourself. You need to figure out what works for you and in what way. In the army, Tom spent a lot of time planning the worse case scenario and then trying to define best practices in order to avoid, handle and get out of such scenarios. In many ways, that's what we do in the early days of entrepreneurship.
When he left the army, Tom knew he doesn't want to answer to other people's order anymore. He decided to use his skills of writing and started his first website. He sailed forward — meaning he was failing but learning. For the first 6 months, he didn't make a single dollar.
"But that might be due to the fact I didn't offer anything to sell."
He had an idea that he decided to test out: After attending a conference held by Seth Godin with a hundred other people, he decided to take the notes he made and create a small e-book from it titled, 2 Days With Seth Godin. Of course that is already brilliant branding, if you asked me. Since when I heard about it, I figured Tom and Seth are close friends at least, and then realized it was on the context of conference.
At the time, Tom had just short of 150 e-mail subscribers. He sent them an e-mail, letting them know about the book and offered it to them to download and to pay for it as much as they want. People could get it for free or choose to pay some amount of money that would go to contribute for Tom being able to continue to do his work. 80 people ended up downloading the book, half of which contributed money. In fact, on average, the book sold at $15 a piece, which was more than 3x more than what Tom would make had he made his book available on Amazon!
Ever since, Tom has been intrigued by Pay What You Want model. You can learn about it more in his latest book The Complete Guide To Pay What You Want Pricing. And in today's episode, he shares what he learned.
Tune in to find out how you can start making money with your brand … without asking for money!
Mentioned Resources
I Need Your Help!
If you haven't already, I would love if you could be awesome and take a minute to leave a quick rating and review of the podcast on iTunes by clicking on the link below. It's the most amazing way to help the show grow and reach more people!
Leave a review for Meron's podcast!
Affiliate Disclosure: Please note that some of the links above are affiliate links. There is no additional cost to you, and I will earn a commission if you decide to make a purchase.