Are you ready to finally build the relationships that will make your success a reality?
I used to hate getting into rooms full of people I didn't know.
I used to think I'm pretty good with people… but when you'd put me in a room full of strangers… all that confidence evaporated.
Have you ever felt the same?
Every entrepreneur worth his salt attributes a large portion of their success to the people around them. In fact, they met most of those people first at a party, or some conference or meetup.
When I think about it, I met 95% of the core of my professional network in 3 events!
Everyone I interviewed on the show, I reached through this core network. Every person on my masterminds, I met through this core network. Every joint-venture I was involved in, came from this core network.
3 events. That's all it took.
Well, 3 events, and working the room to actually make those events count!
Two months ago John Corcoran shared with us the 10 Steps To Becoming A Business Networking Superhero. After than interview, John introduced me to Susan Roane.
John referred to Susan's book, 'How To Work A Room', as "the bible of networking". And today, she will show you how you can put your best foot forward next time you enter any room.
Click play now, and learn how to build the relationships that will make your success a reality:
How To Work A Room – Episode Highlights
The 3 most important traits of savvy networkers
How to introduce yourself to new people in an engaging way… in 9 seconds or less!
The 4 magic words that help conversations flow with ease
How to segue from the small talk… to the big talk!
Three ways to get out of a conversation… graciously!
How to remember the people you met at events and meetups
The main don'ts of networking that you should avoid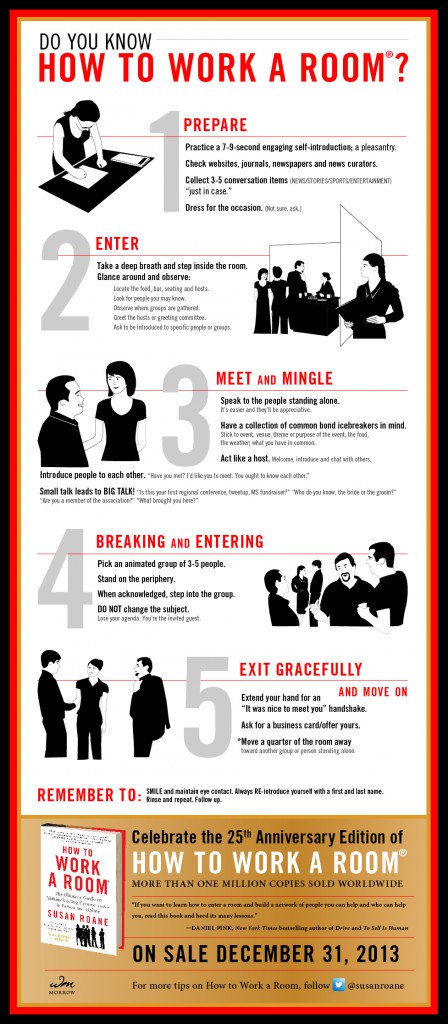 Mentioned Resources
I hope you enjoy the episode!
Have an amazing weekend, my friend!
Meron
P.S. Next week we're switching gears as we'll talk about a business model never before covered on the show… don't miss out. It's HUGE!
I Need Your Help!
If you haven't already, I would love if you could be awesome and take a minute to leave a quick rating and review of the podcast on iTunes by clicking on the link below. It's the most amazing way to help the show grow and reach more people!
Leave a review for Meron's podcast!
Affiliate Disclosure: Please note that some of the links above are affiliate links. There is no additional cost to you, and I will earn a commission if you decide to make a purchase.