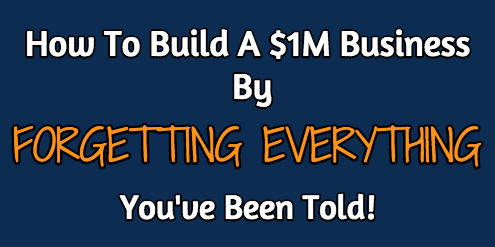 Forget everything you've learned about making passive income online. Forget about guest posting, link building, and social media. Let's go back to the basics. To the core of what being an entrepreneur means: becoming a successful business owner.
Click play now:
In today's episode you will learn:
How to stop delaying the "money getting" process
Why building your first online business around "a personal brand" might not be the best option for you
How to streamline your marketing & sales by tapping into existing channels where money is already being made
How to do effective market research and uncover trending markets with little competition
How to learn your competition, and outdo them
How our guest built in 18 months a business generating over $250,000/month (including the exact steps he took!)
"Personal branding" is the biggest hype right now. Many are obsessed with turning themselves into "the product" that people buy. This is no little due to many gurus giving advice like:
"There is no one like you in the world. That's why your unique selling proposition should be YOU! Then, no one can copy it!"
This advice is hard to follow and extremely time-consuming. But more than that, by definition – it's not scalable!
Think about it. Say you go ahead, and build a successful personal brand. Well done! Your coaching, your books, your courses, your DVDs, and your membership sites are selling well. That's amazing!
But… hold on one second…
The entire sales and marking process is based on people buying "you"! Congratulations, you've just cemented yourself into your own business. Is that a bad thing? Only if you ever want to enjoy the money you're making – without the business crashing while you're away!
This is why in today's episode, my guest and I go back to "business 101":
Choose a rising market
Find an existing channel where money is already being made
Learn what products are doing well in the market and what problems they solve (or what desires they meet)
Find the shortcomings of those products, and to make something that solves it better
Put your product in the market
Promote it using the existing channel where the customers already are and are accustomed to spending money
This is exactly, to the dot, how Chad Mureta built his app empire. And it's also how today's guest, Ryan Moran, built in 18 months a business that's making over $250,000 a month.
I also seen Ryan mentor a good friend of mine recently. That friend went on to building his business from zero to 5-figure monthly income – in just a couple of months!
No matter where you are in your entrepreneurial journey, you'll want to scroll to the top of this post, and click play right now! Don't miss the information on today's episode!
BTW, if you enjoyed this episode, please leave Ryan a comment below, or Tweet him (@RyanMoran) to let him know 🙂
Mentioned Resources
I Need Your Help!
If you haven't already, I would love if you could be awesome and take a minute to leave a quick rating and review of the podcast on iTunes by clicking on the link below. It's the most amazing way to help the show grow and reach more people!
Leave a review for Meron's podcast!
Affiliate Disclosure: Please note that some of the links above are affiliate links. There is no additional cost to you, and I will earn a commission if you decide to make a purchase.