Kevin Cann acquired 9 properties while working a regular factory job and earning $10hr. Listen to find out how he did it, and how you can do the same!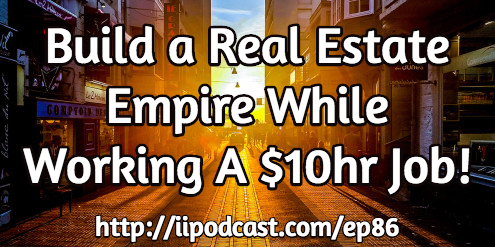 Episode Highlights
Happy Thanksgiving!
How Kevin Cann acquired 9 properties while working a regular factory job and earning $10hr
Lessons learned from Kevin, and how you can apply them to your own journey!
Entrepreneurship, the sacrifices Kevin had to make, and what he got in return
I e-met Kevin when he was taking my free video course, Podcast Starter Kit. We were chatting about his new show, and I asked him for his background. When he shared his story with me, I was gobsmacked.
"There's no way something like this is even remotely possible!" I thought.
Nonetheless, here, standing right in front of me (virtually) – was a man who achieved it. But how?
Was he more qualified than others? No. Did he have the perfect upbringing or previous experience? No, not at all.
It's sheer determination to get out of the hamster wheel that powered this amazing feat. It was the will to lose sleep, work hard (very hard), make mistakes and learn from them, and reach out for help.
It was everything that makes an aspiring entrepreneur into a successful one.
And today, I'm very thankful for Kevin opening up and sharing his unique story with the audience. It's his first interview ever, but I'm sure it's the first of many.
I hope you tune in to today's inspiring episode, and if you have a minute, check out Kevin's website or leave him a few words in the comments section.
I also want to use this day on which America is celebrating Thanksgiving, to thank YOU – for the ongoing support, for reading, tuning in, and spreading the inspiration. Thank you.
Mentioned Resources
Yours,
Meron
I Need Your Help!
If you haven't already, I would love if you could be awesome and take a minute to leave a quick rating and review of the podcast on iTunes by clicking on the link below. It's the most amazing way to help the show grow and reach more people!
Leave a review for Meron's podcast!
Affiliate Disclosure: Please note that some of the links above are affiliate links. There is no additional cost to you, and I will earn a commission if you decide to make a purchase.