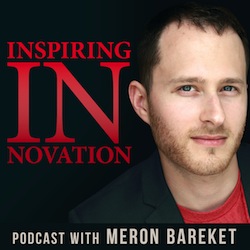 It's here! It's finally here!
I'm so excited to announce the Inspiring Innovation Podcast. This baby has been in the making since August 2012 (it's now April 2013!), and I simply cannot believe it's finally out of the gate.
Here's what it's about: every Thursday I'll release a new episode featuring an amazing guest. All guests will be among today's most successful entrepreneurs, and we will dive into their untold story, revealing the secrets behind their success. Where did they fail? What mistakes have they made? What lessons have they learned? And how they moved forward and achieved their incredible success stories?
If this sounds familiar to the Inspiring Innovation Magazine readers out there – you are correct. Many interviews will be based on content from the magazine, so you will now have the freedom to take the interviews on the road, or listen to them while at the gym, commuting, walking the dog – or any other activity that lets you enjoy podcasting. I don't want the wisdom that these amazing entrepreneurs share to be wasted by limiting the ways you can consume the interviews.
For the magazine readers – don't fret. The magazine will always be ahead of the podcast, and I will keep having a huge amount of additional content, articles and videos. Nothing's changing — it's only getting better.
To all of the people who contacted me since the magazine was launched and asked for a podcast version — thanks for your patience and support. I hope this will live up to your expectations!
* Making my happy dance *
Join us weekly for a constant dose of entrepreneurship inspiration, lifestyle, and business. After all, this is the best way to become a more successful entrepreneur!
In the first episode I cover
How is this podcast going to work – the publishing schedule and format
Why I created it, and who are some of the coming guests on the show
My personal entrepreneurship story – from child entrepreneur (I was the PC technician of my kindergarten when I was 6), to starting a business, failing, going corporate, and starting all over again.
What gave me the inspiration and strength to make the change, leave corporate, and say goodbye to safety
Items mentioned in this episode include:
Items I forgot to mention because I was too excited!:
Entrepreneur On Fire – daily inspiring interviews with incredible entrepreneurs, by John Lee Dumas. http://eofire.com
Don't Miss an Episode! Subscribe Below:
Using something else? Copy this address:
––– http://www.meronbareket.com/feed/podcast/ –––
I Need Your Help!
Thank you all for checking out this episode of the Inspiring Innovation podcast!
If you haven't already, I would love if you could be awesome and take a minute to leave a quick rating and review of the podcast on iTunes by clicking on the link below! It's the most amazing way to help the show grow and reach more people!
Leave a review for Meron's podcast!
Thank you again for your ongoing support.
Stay awesome 🙂
Meron
Transcript
[spoiler title="Episode 001″]Still in progress, please come back later! [/spoiler]