In this episode you will learn the 7 steps to turn Instagram into your best list-building machine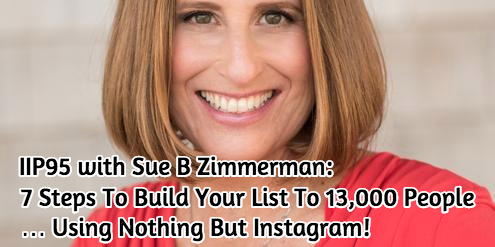 Sue B Zimmerman, the Instagram expert, is joining us today. Sue, a master at Instagram for businesses, teaches entrepreneurs and business owners how to use Instagram right. She's the founder of Instaresults, and in today's episode she shares with us her 7 step formula to InstaSuccess.
When Zimmerman started promoting her own business on Instagram, she experienced first handed what happens when a community falls in love with a brand. By using nothing but Instagram, her sales grew by a wapping 40% – a huge number for any business owner!!!
Seeing how many business owners out there are struggling with finding growth through social media, Sue decided to start teaching her Instagram success system.
Episode Highlights
Why you should be paying attention to Instagram
How to turn Instagram into a massive list-building tool
The apps you should have in order to create truly engaging content for Instagram using nothing but your phone
How to find the right hashtags and get noticed
How to engage and connect with fans on Instagram
How to network using Instagram
Sue B's 7 steps for Instagram success!
Mentioned Resources:
I Need Your Help!
If you haven't already, I would love if you could be awesome and take a minute to leave a quick rating and review of the podcast on iTunes by clicking on the link below. It's the most amazing way to help the show grow and reach more people!
Leave a review for Meron's podcast!
Affiliate Disclosure: Please note that some of the links above are affiliate links. There is no additional cost to you, and I will earn a commission if you decide to make a purchase.