Note: Click here to download the Audience Building Blueprint (based on what Danny shared on today's episode!)
Episode Highlights
Danny's jaw-dropping story of how he pitched himself to a CEO of a gaming company with zero knowledge of gaming or programming. (Did I mention the man has balls?!)
How to build an audience for your blog: Danny's step-by-step strategy that you can apply in any market to build your online audience.
How to start an entrepreneurial business with no idea and guarantee your success.
The #1 secret ingredient all successful people share (and all unsuccessful people lack!)
Once you get email subscribers — what to do with them?
How to create auto-responder sequences that engage and don't make you sound like a marketing fart!
Today's Guest
Danny Iny, founder of Firepole Marketing has some balls. During today's interview you'll hear some of his stories, and I guarantee your reaction will be just like mine: jaw dropping to the floor, thinking to yourself, "Whoa! I can't believe he actually did that!"
Leaving School To Start A Business
Danny grew up being the straight-A, goodie-goodie student. So it was quite surprising that when he turned 15, something flipped in his brain. "All of a sudden I was just bored out of my mind with school".
The teachers' favorite kid started cutting classes. In the first trimester of his 9th grade, he missed out on 152 classes. As time passed and he found himself spending more time ditching school and watching MTV than attending classes, so he decided to leave without completing his education and launch a business instead. He was 15.
Audience Building Strategies
Fast forward to 2014, Danny owns Firepole Marketing, which started in 2011. He has 10 people working for him, a thriving community of over 40,000, thousands of which are paying customers, and he grosses over $100,000 in sales every month.
He focuses on educating his customers on strategies for building an audience from scratch. By focusing on strategies instead of tactics, his program works across all niches, markets, and platforms. His main program is the Audience Business Masterclass — a 14-week program that walks aspiring online entrepreneurs from choosing a market and an audience, to building a thriving community, and finally building products for them and making an income.
Danny guarantees that anyone following the program for a year will have an online business generating at least $3,000-$6,000 a month — or else he'll give you your money back + an extra $1,000 for your time. Now that's a strong guarantee!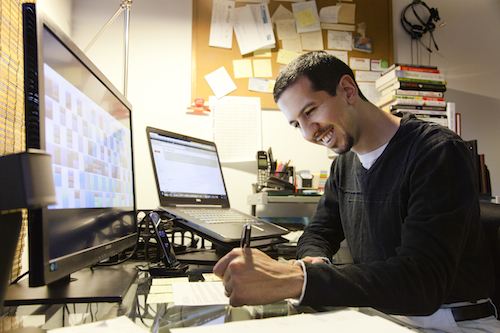 Check out today's episode to learn how Danny went from leaving school at 15 years old to funding a business that generates well in excess of a million dollars annually, and for his audience building strategy that you can start implementing right now to build an audience from 0 to 2000 in 6 months!
Mentioned Resources
I need your help!
If you haven't already, I would love if you could be awesome and take a minute to leave a quick rating and review of the podcast on iTunes by clicking on the link below. It's the most amazing way to help the show grow and reach more people! Leave a review for Meron's podcast!
Click here to download the Audience Building Blueprint (based on what Danny shared on today's episode!)