My first app, 'Inspiring Innovation Magazine' has just been released on the Apple Newsstand / App Store!
I'm making a video today explaining all about this new iPad magazine, the process and why I wasn't around (on the internet) for almost three weeks. That's coming up later today. Meanwhile – check out the magazine at http://bit.ly/InMagApp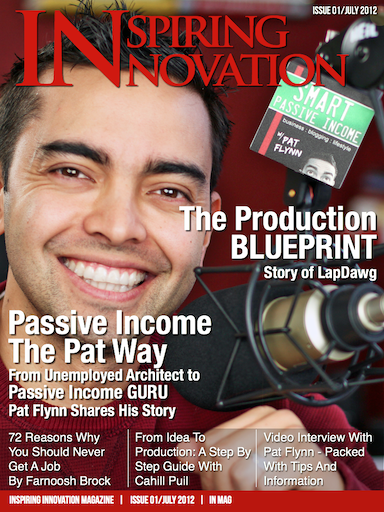 The first issue includes a great video interview with the amazing Pat Flynn from The Smart Passive Income blog, a greatly inspiring piece by Farnoosh from Prolific Living giving you 72 reasons to never get a job, and last but not least – an immensely detailed blueprint of how to go from a product idea to manufacturing and selling it – based on an interview with Cahill Puil, co-founder of LapDawg (see him also featured on Tim Ferriss' 4HWW blog).
Original audio of the interview also included! (Seriously invaluable).
Once again, the address is: http://bit.ly/InMagApp
Enjoy!