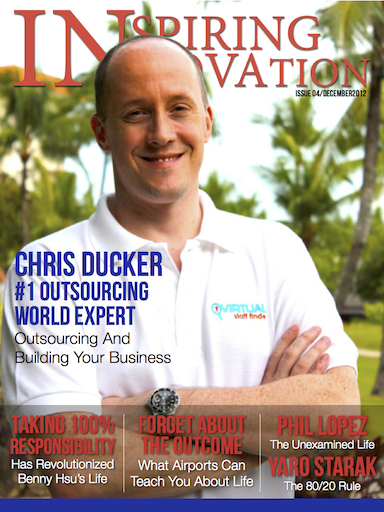 What's inside?
Issue #4 is out, featuring as cover story Chris Ducker, #1 outsourcing world-expert on outsourcing and building your business [exclusive interview].
Here's a small taste:
Also including:
AMAZING interview with the super inspiring Benny Hsu – founder of the app sensation Photo365. We talk about app development, entrepreneurship and personal development [exclusive interview]
The 80/20 Rule – what is it and why it will change your life [By Yaro Starak]
The unexamined life – how to empower your highest human potential [by Phil Lopez]
How to stop saying 'I can't' [By Farnoosh Brock]
How to get 37Signals' best seller 'Getting Real' for FREE! + a Book review by Oliver Nassar
Podcasts of the month
People you must follow
and more!
How much does it cost?
You can get a FREE 2 months trial for the magazine, and cancel at any time.
Just go to this link from your iPad and hit the SUBSCRIBE button once the app is installed: http://inmag.co/mag